An ITIL, ISO 9001 Quality Management, ISO 27001 Information Security and ISO 20000-1 Service management certified company, with operations througout UK, Slovakia, Czech Republic, Romania, Bulgaria and Turkey.
We employ over 850 qualified and experienced specialists from our state of the art delivery centres and technical tranining facilities.
Our comprehensive range of services and solutions cover: Managed Network Services, Platform Support Services, Managed Desktop Services, Project Management Services, Managed Service Desk, Managed BPO, IT Outsourcing Services, Bespoke IT Services, and Staff Augmentation.
We are strategic partners with leading technology companies including: Cisco, Microsoft, Oracle, Avaya, IBM and HP to name a few. Soitron is also one of the very few Cisco Master Uni fied Communications accredited companies in Europe. Dedicated to customer satisfaction, we constantly strive to improve technical excellence within our company, which has been recognised by clients and partners alike.
Key people
Daniel Olsson
Managing Director, Soitron UK
Farid Berrezag
Technology and Business Consultant
Tomáš Turkovič
Director for Outsourcing
Martina Hummelova
Marketing Manager
Kavitha Muniandy
European Senior Relationship Manager
Our certifications
We have been continuously investing in company, technology and strategic partner relationships, providing customers with peace of mind.
"With Soitron, you will experience the difference between traditional IT outsourcing companies and our managed delivery services, which creates added value and promotes innovations. Our transparent delivery model always keeps you in the driver's seat. You set the vision and while being in control of KPIs and costs, you stay agile and focused on your core business."
Tomáš Turkovič, Director For Outsourcing at Soitron

International system integration
Soitron Group, represented by 6 well-established companies, has been providing customers with IT networking projects and services for over than 23 years. We are proud of our expertise, deep knowledge and customer references especially in the area of Multichannel Contact Centres and unique solutions for service providers, with focus on DPI and video solutions. Our long-term experience in IT Infrastructure, Unified Communications and Security competences form a solid base for your system integration projects.
Managed Outsourcing Services
We take the IT headaches away, allowing you to focus on the core business.
Soitron's Managed IT Outsourcing Services help clients align their IT investments with business objectives. Our transparent, flexible delivery and commercial engagement models reduce costs whilst providing reliable and continued performance and improvements. Our team of highly accredited technical specialists deliver client projects with adherence to industry best practices.
Special solutions
At Soitron, we are fond of innovative projects, which help our clients accelerate their business growth. Most recently, we have implemented unique solutions for the Mobile Police Force for Ministry of Interior Slovakia, the Voice biometrics authentication for customers of Tatra banka in Slovakia (member of Raiffeisen) and Air Traffic Control (ROMATSA) in Romania.
Soitron group regional presence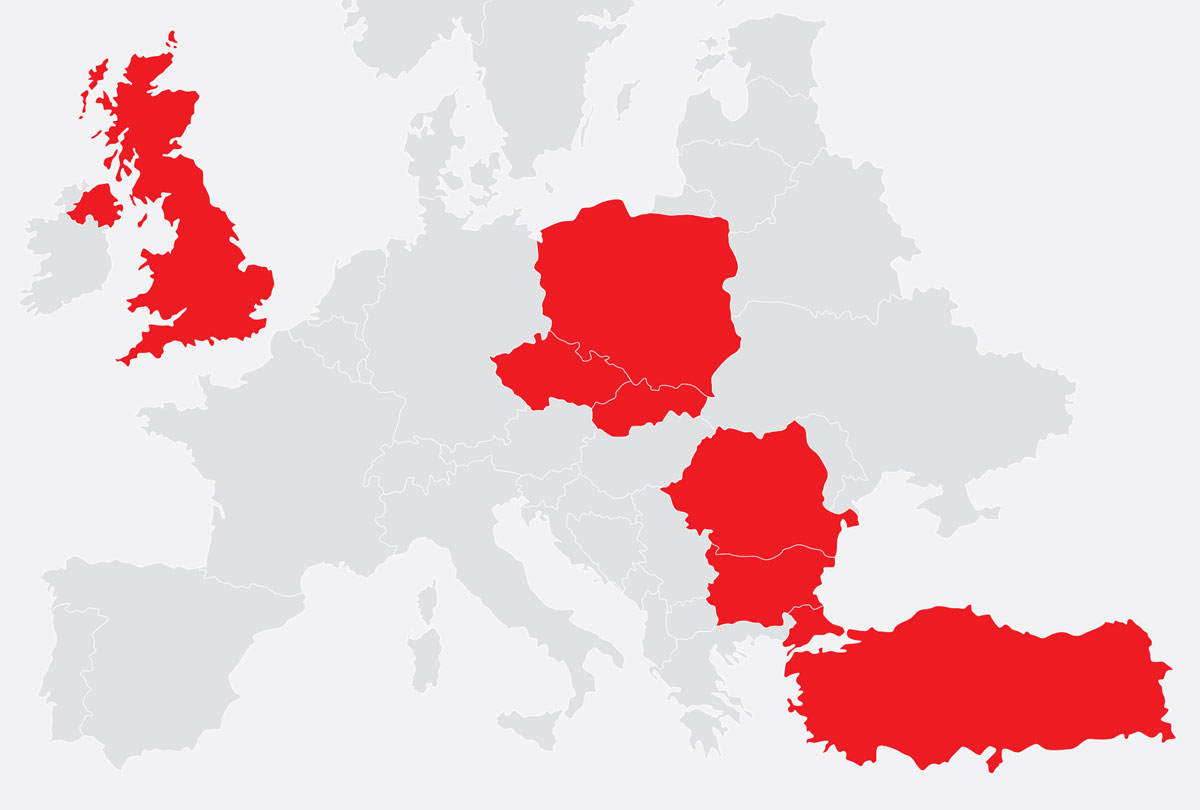 IT BUDGET OPTIMISATION
Reduce costs by up to 40% – free up internal resource, increase productivity, improve service delivery, reduce downtime and faults.
NEARSHORE DELIVERY
Operations throughout UK, Czech Republic, Slovakia, Bulgaria, Romania, Turkey, geographical proximity, multilingual capabilities, cultural affinity, similar time zones and shorter traveling times. 5 top ranked delivery locations for offshore outsourcing based on Gartner report 2015.
FLEXIBILITY & SCALABILITY
Managed services or staff augmentation, ability to ramp up or down, change technology skillset to suit project demands, L1,L2,L3 support, various working time options ie 24×7 services, Soitron or client managed, flexible pricing structures.
IMPROVED SERVICE
Talented, qualified and experienced resources, highest partner accreditations and specialisations, decades of technical knowhow and service delivery, ITIL, PMP, PRINCE2, SIX SIGMA industry best practices, robust SLA'S & KPI.
SECURITY
EU delivery operations, ISO 27001, National Safety Board and NATO Security clearance and certifications, political stability, EU Data Security.